Blisters
Our main type of product is the blister. This is a 100 grams packaging and the food is spread out over 24 cubes. We have single products in one blister, like Bloodworms or Artemia. However, we can also offer a variety of food in one blister, like Tropical Quartet, Marine Quartet or Mixed food.
There are 10 blisters in a cardboard box, which can also be used as a display. Every blister comes in a colourful sleeve with an expiry date printed on it.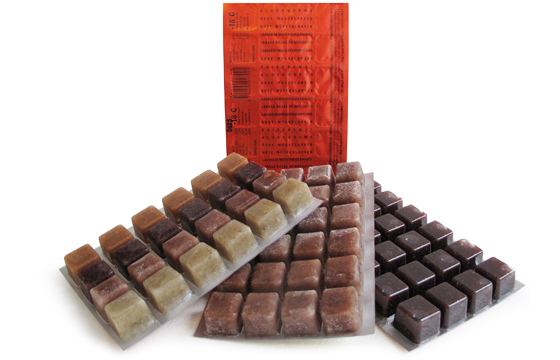 100 grams, 24 cubes

Different colourful foil for each product with batch code

Different sleeve for most products with expiry date

Easily pushed out directly above aquarium

Each product is in stock

Comes with 10 blisters in a handy display
Custom made blisters
There is a possibility to have your own recipe of fish food in a blister. Also you can have your own private label. When you provide us with your favourite design, we take care of the printing and packing. Please do not hesitate to contact us if you want more information.