Food Sticks
We are proud to introduce to you our food stick. Some years ago we have built this machine which can make convenient food sticks. All our regular fish food is also available in food sticks. It is a fun way to feed your fish, because you can hand feed them this way. Just hold one end of the stick and they will eat out of your hand.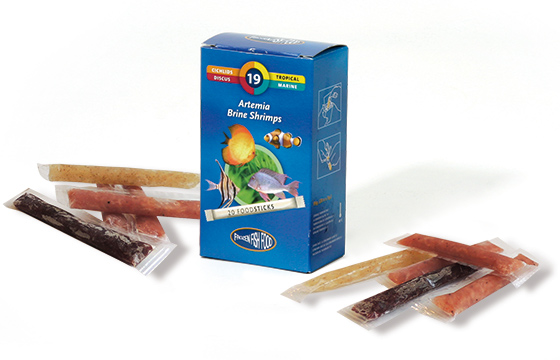 Practical and clean: New packaging, easy to use
Available with 20 in a small box, or 10 in a plastic bag. Each stick contains 5 gram so you can easily adjust the amount of food. After you take out the required number of food sticks you can replace the box immediately into your freezer. In comparison with the standard blister packaging, our food sticks are very hygienic since food leftovers (with their nasty strong scent) will not end up scattered in your freezer.
Hygienic and easy to use

20 in a box or 10 in a bag

Easily pushed out directly above aquarium

Comes with 10 boxes in a handy display
How to use Food Sticks
Please have a look at the demonstration film about how to hand-feed your fish. See how much fun it is to have your fish eat out of your hand. Hold the stick into the water and watch and feel the fish nibble at the food stick.