Product lines
3F Frozen Fish Food offers its large assortment in several types of packaging. Depending on its use, from home practise use to professional large consumer, we supply our products in packaging of 100 gram, 250 grams, 500 gram, 1kg or bulk. Our blisters and the foodsticks have the same recognizable frisky design.
Custom made
Feel free to inquire about the possibilties for your private label. You can design your own sleeve or have your logo printed on the smaller tablets, 100 gram or 250 grams.
Have you ever thought about your own fish food recipe? It is possible to have it made at 3F frozen Fish Food especially for you with all the selected ingredients that you think your fish deserves, provided that it has a certain quantity. Please contact us about the conditions.
100 grams packaging containing 24 cubes filled with frozen fish food. Available in single food or in formula, 10 blisters in a box.
More info about Blisters >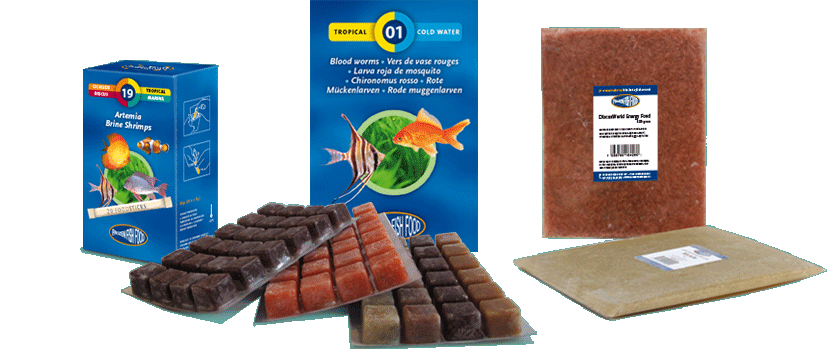 Example Frozen Fish Food packaging
Below you will find an example of our standard blister packaging. For almost every product we have a special sleeve with a corresponding color coding and a number reference to the product code. Of course it is also possible to have your own design on the sleeve.
Design packaging Frozen Fish Food
The numbers on top of the sleeve refer to a specific product code. Every product has its own number.
On both sides of the sleeve there is a color coding. It shows you for which fish this particular food is suitable.
The window at the back of the sleeve offers a good look at the product that is inside.
Next to all the relevant information there are also pictures of types of fish suitable for this particular food.
3F Frozen Fish Food can help you with the choice and design of the packaging.